How To Make The Easiest Homemade Pantry-Granola On Earth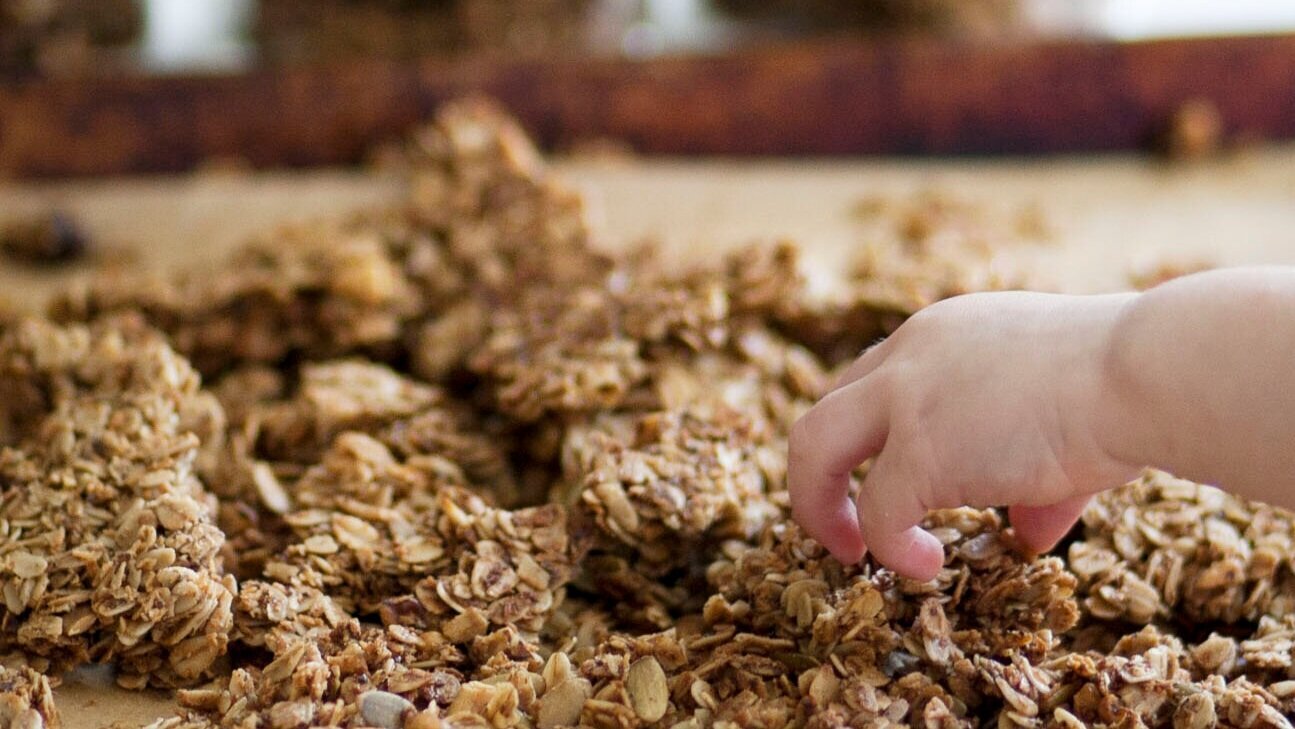 I know. Making homemade granola feels like something only Martha Stewart and insane people do.
But here we are.
I set out to make the most delicious, least-stirry, homemade granola recipe on earth, made with only pantry ingredients. And friends? I succeeded. Let's go.
Best Homemade No-Stir Granola:
2 cups of rolled oats (or substitute 1 cup of oats for 1 cup of crisp brown rice)

2 cups of chopped nuts and seeds (Any combo of walnuts, almonds, pecans, macadamias, pumpkin seeds, sunflower seeds, sesame seeds, etc.
DIRECTIONS:
1. Preheat oven to 300 degrees.
2. Mix together dry ingredients
3. Add in oil and syrup to oat mixture. Toss with spatula to coat all of the oats.
4. Dump out onto a sheet pan lined with unbleached parchment or a silpat. Having the parchment or silpat is imperative because it makes it easier to remove from the baking sheet after cooling and helps keep a chunky granola and not a sticky mess on your baking sheet. (Please don't skip this step!)
5. Also, get it as EVEN, and FLAT as possible (too thin edges could cause it to burn).
6. Bake for about 45 minutes (depending on your oven you may need more or less time to get it golden brown).
You want the granola to be lightly toasted brown on the edges. No stirring necessary. Just let it cook, take it out and leave it on your counter to cool completely so it can harden, and get chunky! After a while, break it into pieces and put it into a glass container.
Once we're all going into the world again, running around like lunatics with no time, we will feel ourselves sinking back into our old patterns and routines. Don't let this be one of them. Because here's why:
1. With homemade, you control the ingredients and amount of oil you use.
Most store-bought granolas use cheap oils, because cheap oils are well, cheap and thus they can make a higher profit. But when your granola has gmo canola oil, it's not really a health food anymore, it's a body inflammation experiment. When you can add good quality olive oil (my personal fav) or the trendy fat like coconut oil, you're doing your body some good.
2. You control the amount of sugar you use.
As we all know, sugar is essentially poison and we need to eat less of it. Packaged foods add more sugar because our taste buds love sweet, but also, it helps with texture and preserving the product. Making it at home you can adjust the amount of sugar and control if you want to keep it super low one week, or when you want a treat granola the next week.
3. You control the taste.
Having a basic granola formula gives you the freedom to add nuts and seeds and flavors depending on your preference or depending on what you actually have in your pantry that week. Sometimes you want that pumpkin seed spice and sometimes you want that vanilla honey walnut. Sometimes it's just oats and whatever else you can scavenge.
Truly, you won't want to buy a store-bought version again. Be sure to place your oaty, seedy deliciousness prominently on your kitchen counter for all your friend to admire. You know, for when friends can come over again. Remember friends?
Jenny is a writer, cooking coach, and host of Cliffs Notes Kitchen, where she shows how simple, bite-sized shifts with minimal effort, can create lasting changes in your health. You can find more of her articles here.